10BY mini 5v 10mm diameter micro stepper motor PM stepping motor
Product Detail
Product Tags

VSM1070 is a miniature high-quality low-noise stepping motor. The motor diameter is 10mm, the motor height is 10mm, the motor ear mounting hole spacing is 14mm, and the output shaft height is 5.7mm. The motor output shaft height can be customized according to the customer's installation needs. The conventional motor output shaft is equipped with copper gears (gear module 0.2, number of teeth 17, and gear thickness 2mm). The gears can also be customized according to the customer's installation needs
The connection mode of the motor is the connecting wire, or the naked needle, FPC, etc. can be customized
Because of its small size, high precision, easy control and other excellent characteristics, this micro stepping motor is widely used in cameras, optical instruments, lenses, precision medical devices, and other fields.
| | |
| --- | --- |
| PRODUCT NAME | 10MM  STEPPER MOTOR |
| MODEL | VSM1070 |
| MAX. STARTING FREQUENCY | 800 PPS min. (AT 5.0 V DC) |
| MAX. SLEWING FREQUENCY | 1100 PPS min. (AT 5.0 V DC) |
| PULL IN TORQUE | 5.4 gf-cm min. (AT 500 PPS , 5.0 V DC) |
| PULL OUT TORQUE | 6.0 gf-cm min. (AT 500 PPS , 5.0 V DC) |
| INSULATION CLASS | CLASS E FOR COILS |
| INSULATION STRENGTH | 100 V AC FOR ONE SECOND |
| INSULATION RESISTANCE | 1 MΩ (DC 100 V)  |
| OPERATING TEMPERATURE RANGE | -10 ~+60 ℃ |
| OEM & ODM SERVICE | AVAILABLE |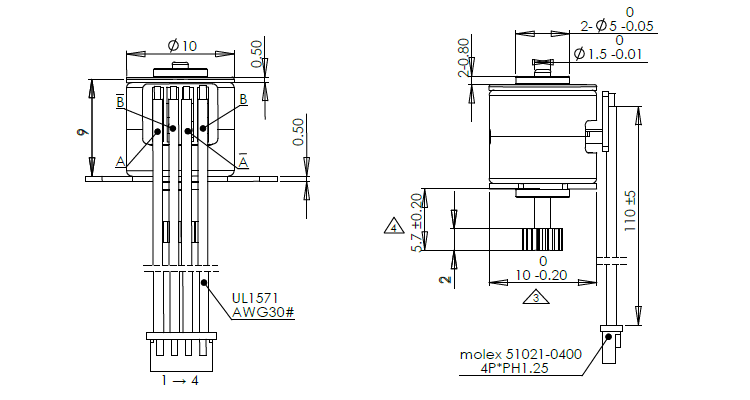 About miniature stepper motor torque diagram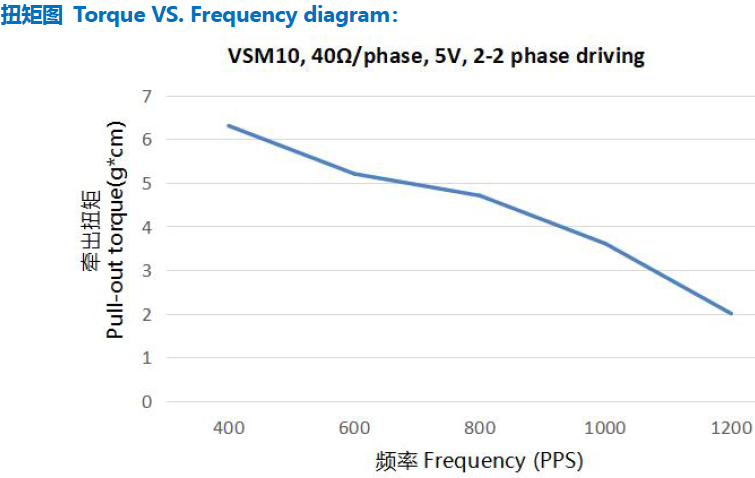 ApplicationAbout Micro stepper motor
Our micro stepper motors generally have 18 degrees step angle.(Full step driving)
That means it takes 20 steps to rotate one turn.
Motor's step angle is related to internal stator's design.
 
We have micro stepper motors with different diameters, and motor's torque is related to its size.
Here is relationship between motor's diameter and torque(with suitable running frequency, at rated voltage):
6mm motor: about 1 g*cm
8mm motor: about 3g*cm
10mm motor: about 5 g*cm
15mm motor: about 15 g*cm
20mm motor: about 40 g*cm
Motor's speed is determined by driving frequency, and it has nothing to do with load (unless it's losing steps).
Due to high precision speed control of stepper motors, with a driver controlled stepping you can achieve very precise positioning and speed control. For this reason, stepper motors are the motor of choice for many precision motion control applications.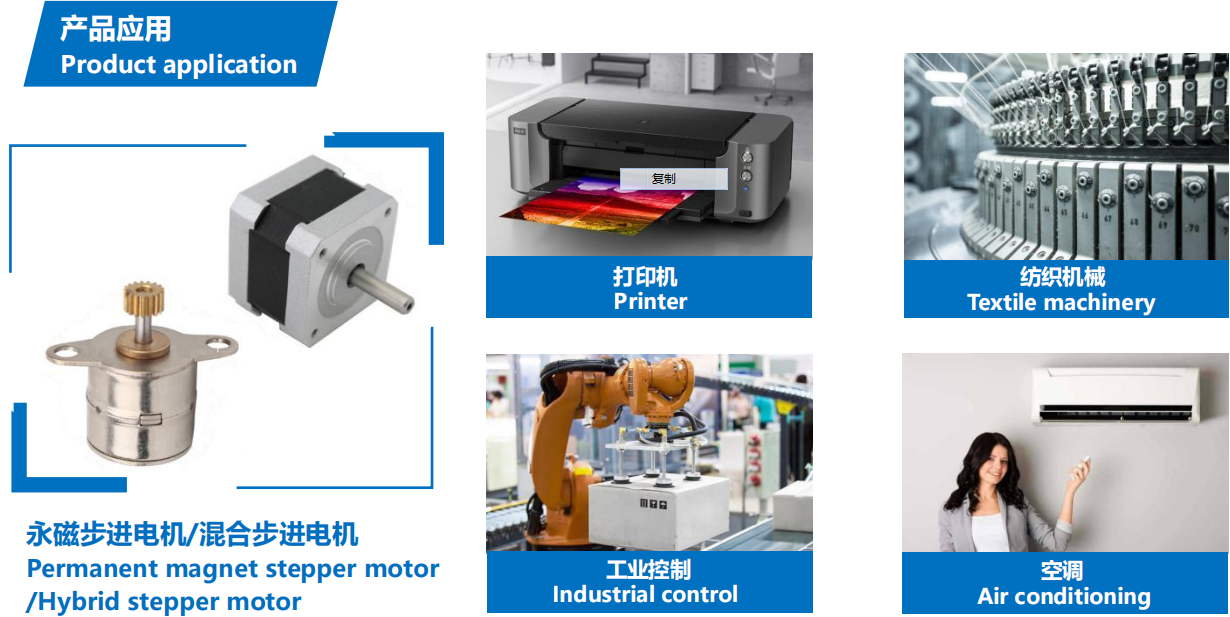 Motor's design can be adjusted based on customer's requirement including:
Motor's diameter: we have 6mm, 8mm, 10mm, 15mm and 20 mm diameter motor
Coil resistance/ rated voltage: coil resistance is adjustable, and with higher resistance, motor's rated voltage is higher.
Bracket design/ lead screw length: if customer want the bracket to be longer/short, with special design such as mounting holes, it's adjustable.
PCB + cables + connector: PCB's design, cable length and connector pitch are all adjustable, they can be replaced into FPC if customers require.
Lead Time and Packaging Information
Lead time for samples:
Standard motors in stock: within 3 days
Standard motors not in stock: within 15 days
Customized products: About 25~30 days (based on complexity of customization)
Lead time for building a new mold: generally about 45 days
Lead time for mass production: based on order quantity
Packaging:
Samples are packed in foam sponge with a paper box, shipped by express
Mass production, motors are packed in corrugated cartons with transparent film outside. (shipping by air)
If shipped by sea, product will be packed on pallets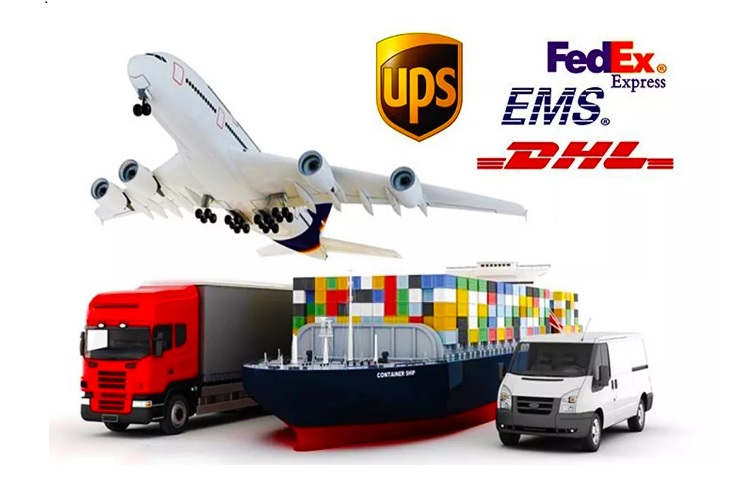 On samples and air shipping, we use Fedex/TNT/UPS/DHL. (5~12 days for express service)
For sea shipping, we use our shipping agent, and ship from Shanghai port. (45~70 days for sea shipping)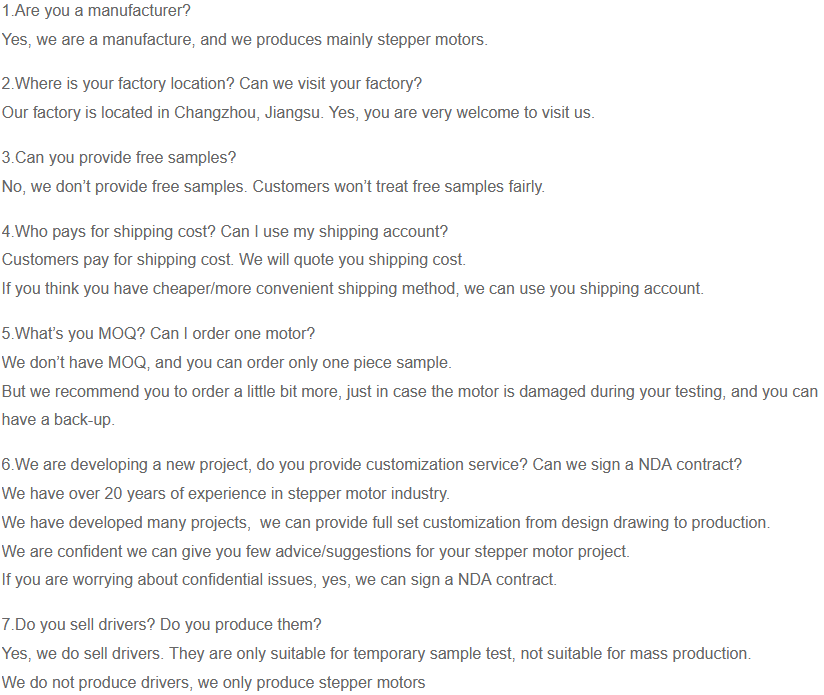 Frequently Asked Question
1.Stepper motor plus reduction gearbox deceleration:
Stepper motor equipped with reduction gear box used together, stepper motor output high speed, low torque speed, connected to the reduction gear box, gear box internal reduction gear set meshing transmission formed by the reduction ratio, the stepper motor output high speed reduced, but also to enhance the transmission torque, to achieve the ideal transmission effect; reduction effect depends on the gear box reduction ratio, the greater the reduction ratio, the smaller the output speed, and vice versa.
2.Stepper motor how to use the curve exponential control speed?
Exponential curve, in the software programming, first calculated time constants stored in the computer memory, work pointing to the selection. Usually, the acceleration and deceleration time to complete the stepper motor is 300ms or more. If you use too short acceleration and deceleration time, for the vast majority of stepper motors, it will be difficult to achieve high-speed rotation of stepper motors.
3.The reasonable range of stepper motor heat generation:
The extent to which motor heat generation is allowed depends largely on the motor's internal insulation level. The internal insulation will only be destroyed at high temperatures (above 130 degrees). So as long as the internal does not exceed 130 degrees, the motor will not damage the ring, and the surface temperature will be below 90 degrees at that point. Therefore, the surface temperature of stepper motor in 70-80 degrees are normal. Simple temperature measurement method useful point thermometer, you can also roughly determine: with the hand can touch more than 1-2 seconds, not more than 60 degrees; with the hand can only touch, about 70-80 degrees; a few drops of water quickly vaporized, it is more than 90 degrees
---
Next:
15by micro steppr motor 2-phase 4-wire 18 degree permanent magnet stepping motor with spiral shaft
---