8mm mini PM stepper motor with 10mm*8mm gearbox
Product Detail
Product Tags
This 8mm diameter miniature stepping motor is combined with 8mm*10mm precision metal gearbox.
The basic stepping angle of the motor is 18 degrees, i.e. 20 steps per revolution. With the deceleration effect of the gearbox, the final rotation angle resolution of the motor can reach 1.8~0.072 degrees, which can be used in many fields requiring precise control of the rotation position.
We have 1:10 1:100 1:200 1:250 gear ratios for you to choose from, in addition to customizing the reduction ratio for special requirements. The larger the reduction ratio, the higher the motor torque and the slower the motor speed. Customers can match the speed ratio according to the different requirements of the use of torque speed, and at the same time, given the appropriate stepper motor drive frequency to achieve speed and torque determination. Please confirm the gear ratio before ordering.
Customers can match the gear speed ratio according to different requirements of using torque speed, and the gearbox has 1:2 - 1:1000 gear ratio for customers to choose.
| | |
| --- | --- |
| Model No. | SM08-GB10 |
| Motor diameter | 8mm gear stepper motor |
| Drive voltage | 3V DC |
| Coil resistance | 25Ω±10%/phase |
| Number of phase | 2 phases |
| Step angle | 18°/step |
| Driving mode | 2-2 |
| Connector type | Molex51021-0400 (1.25mm pitch) |
| Gearbox type | GB10 (10*8mm) |
| Gear ratio | 10:1~350:1 |
| Output shaft | D shaft/lead screw shaft |
| Max Starting frequency | 800Hz(Min) |
| Max response frequency | 1000Hz(Min) |
| Pull-out-torque | 2g*cm(400PPS) |
| EFFICIENCY | 58%-80% |

| | | | | |
| --- | --- | --- | --- | --- |
| Gear ratio | 20:1 | 50:1 | 100:1 | 250:1 |
| Precise ratio | 20.313 | 50.312 | 99.531 | 249.943 |
| Tooth number | 14 | 14 | 14 | 14 |
| Gear levels | 3 | 5 | 5 | 5 |
| Efficiency | 71% | 58% | 58% | 58% |
About geared stepper motors
1.The power input part of the standard stepper motor is available in the form of FPC, FFC, PCB cable, etc.
2.For output shaft, we have two different types of standard shafts:D shaft and screw shaft. If a special axis type is required, we can also customize it, but there is an additional customization cost.
3.8 mm diameter permanent magnet stepper motor with 10*8 mm gear box. The gear box has high precision, high efficiency and low noise, which makes the product have good reliability.
1. The efficiency of worm gearbox is 58%~71%.
2. The gearbox uses the most advanced equipment in the world to process the relevant parts, so the high precision, high efficiency, low noise, and reasonable and reliable technology make the product have good reliability.
 3. The output shaft of GB10 gear box has D shaft and screw shaft for customers to choose. As the following picture: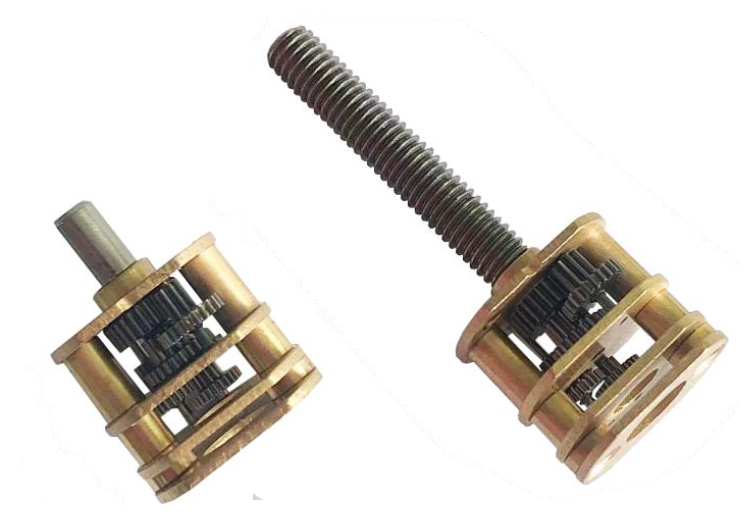 Geared stepper motors, widely used in Smart home, personal care, home appliance equipment, smart medical equipment, smart robot, smart logistics, smart cars, communication equipment, smart wearable devices, consumer electronics, camera equipment, and other industries.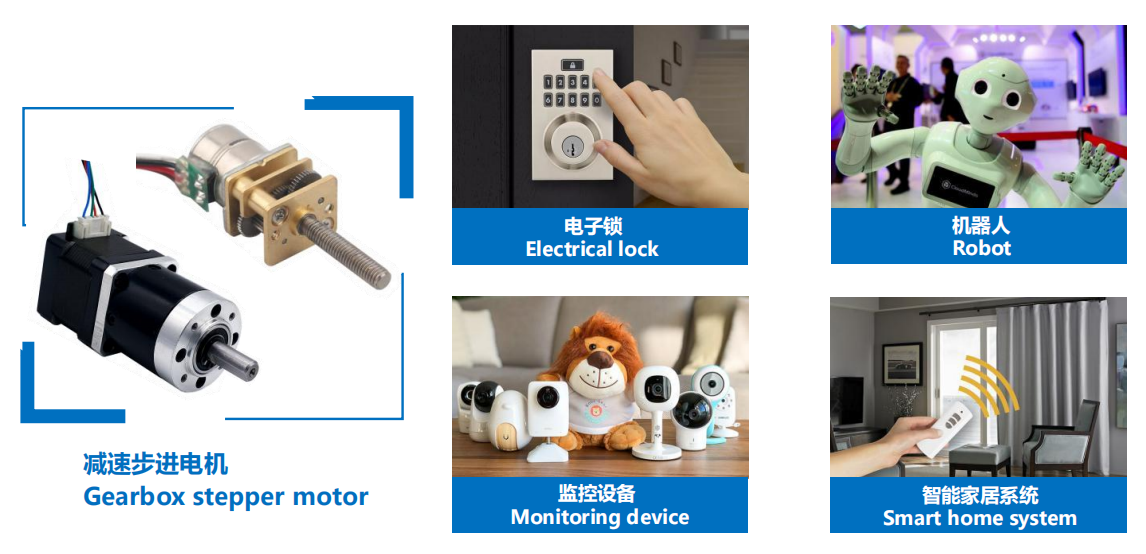 1. Coil resistance/rated voltage: The coil resistance is adjustable, the higher the resistance, the higher the rated voltage of the motor.
2. Bracket design/slider length: If customers want longer or shorter bracket, there are special design, such as mounting holes, it is adjustable.
3. Slider design: the current slider is brass, it can be replaced with plastic to save cost
4. PCB+cable+connector: PCB design, cable length, connector pitch are adjustable, can be replaced with FPC according to customer's need.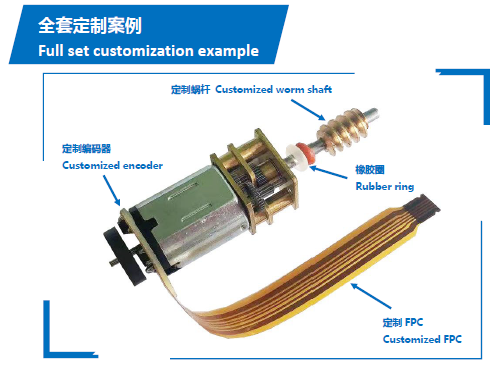 Lead Time and Packaging Information
Lead time for samples:
Standard motors in stock: within 3 days
Standard motors not in stock: within 15 days
Customized products: About 25~30 days (based on complexity of customization)
Lead time for building a new mold: generally about 45 days
Lead time for mass production: based on order quantity
Packaging:
Samples are packed in foam sponge with a paper box, shipped by express
Mass production, motors are packed in corrugated cartons with transparent film outside. (shipping by air)
If shipped by sea, product will be packed on pallets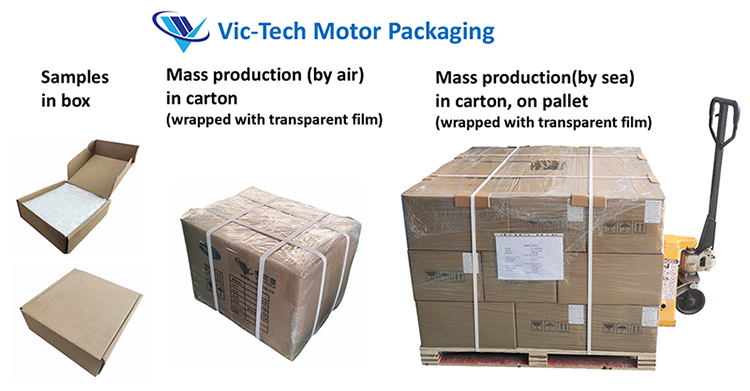 On samples and air shipping, we use Fedex/TNT/UPS/DHL. (5~12 days for express service)
For sea shipping, we use our shipping agent, and ship from Shanghai port. (45~70 days for sea shipping)
1.Are you a manufacturer?
Yes, we are a manufacture, and we produces mainly stepper motors.
2.Where is your factory location? Can we visit your factory?
Our factory is located in Changzhou, Jiangsu. Yes, you are very welcome to visit us.
3.Can you provide free samples?
No, we don't provide free samples. Customers won't treat free samples fairly.
4.Who pays for shipping cost? Can I use my shipping account?
Customers pay for shipping cost. We will quote you shipping cost.
If you think you have cheaper/more convenient shipping method, we can use you shipping account.
5.What's you MOQ? Can I order one motor?
We don't have MOQ, and you can order only one piece sample.
But we recommend you to order a little bit more, just in case the motor is damaged during your testing, and you can have a back-up.
6.We are developing a new project, do you provide customization service? Can we sign a NDA contract?
We have over 20 years of experience in stepper motor industry.
We have developed many projects,  we can provide full set customization from design drawing to production.
We are confident we can give you few advice/suggestions for your stepper motor project.
If you are worrying about confidential issues, yes, we can sign a NDA contract.
7.Do you sell drivers? Do you produce them?
Yes, we do sell drivers. They are only suitable for temporary sample test, not suitable for mass production.
We do not produce drivers, we only produce stepper motors
---
---