High Precision 42mm stepper motor NEMA 17 hybrid stepper motor
Product Detail
Product Tags
This is a NEMA 17 42mm diameter hybrid stepper motor.
We have: 20mm, 28mm, 35mm, 39mm, 57mm, 60mm, 86mm, 110mm, 130mm in addition to 42mm diameter, these motors can be matched with gearboxes.
Motor height: 25mm, 28mm, 34mm, 40mm, 48mm, 60mm, the higher the motor height, the higher the torque, customers choose according to their needs.
 
Application areas are also wide, such as: robots, industrial electronic automation equipment, medical equipment, advertising equipment, printing equipment, textile machinery and so on.
At present, we have exported to more than 20 countries such as USA, Germany, Italy, Spain, UK, Mexico, Brazil, etc.
If you are interested in our products, please feel free to contact us.

Step Angle

(°)

Motor length

(mm)

Holding torque

(kg*cm)

Current

/phase

(A/phase)

 

Resistance

(Ω/phase)

Inductance

(mH/phase)

No. of

leads

Rotational inertia

(g*cm2)

Weight

(KG)

1.8

25

1.8

0.4

24

36

4

20

0.15

1.8

28

1.5

0.5

20

21

4

24

0.2

0.9

34

2.2

1.33

2.1

4.2

4

35

0.22

1.8

34

1.6

0.95

4.2

2.5

6

34

0.22

0.9

40

2.6

1.2

3.3

3.4

6

54

0.28

1.8

40

3.6

1.68

1.65

3.2

4

54

0.28

0.9

48

3.17

1.2

3.3

4

6

68

0.38

1.8

48

4.4

1.68

1.65

2.8

4

68

0.38

0.9

60

5.5

1.68

1.65

5

4

106

0.55

1.8

60

5.6

1.2

6

7

6

102

0.55
Above parameters are standard products for reference, motor can be customized based on customer's requirement.

Basic structure of NEMA stepper motors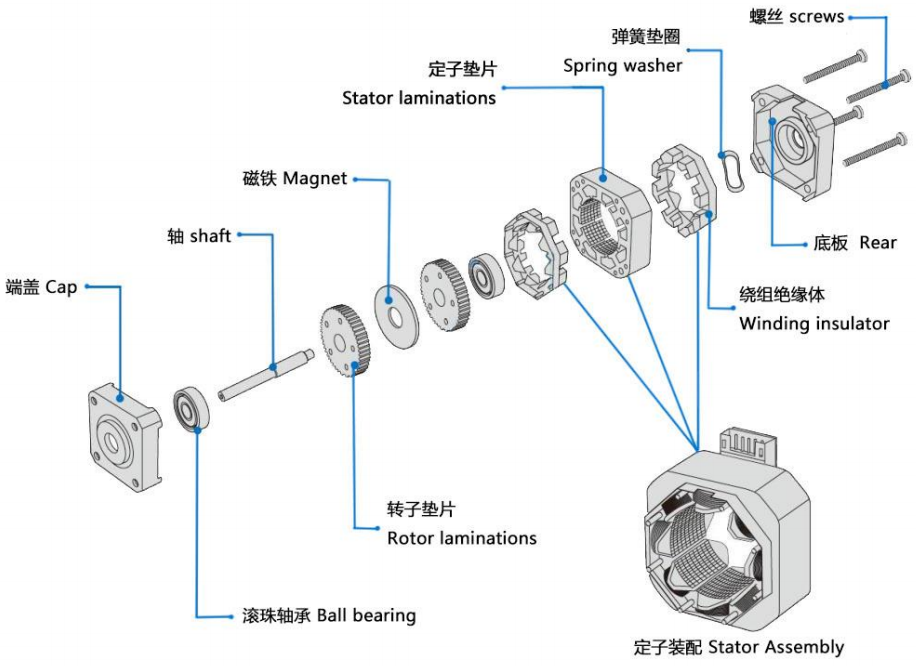 Application of Hybrid stepper motor
Due to high resolution of hybrid stepper motor's (200 or 400 steps per revolution), they are widely used for applications requiring high precision, such as:
3D printing
Industrial control(CNC, automatic milling machine, textile machinery)
Computer peripherals
Packing machine
And other automatic systems requiring high precision control.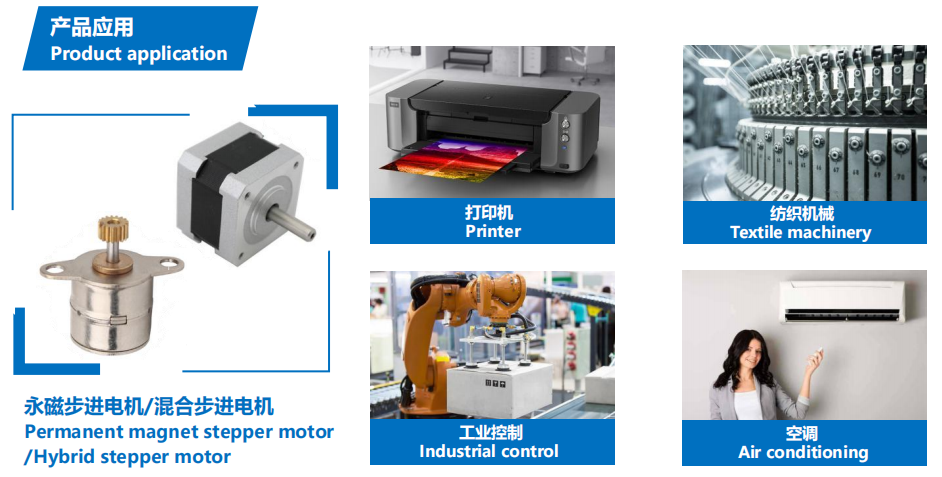 ApplicationNotes about hybrid stepper motors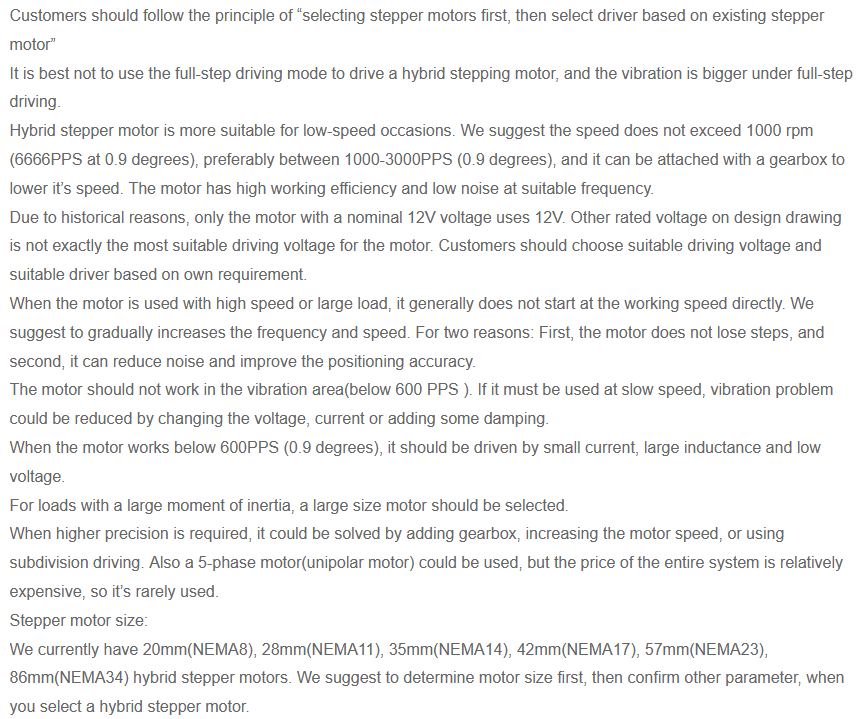 Motor's design can be adjusted based on customer's requirement including:
Motor's diameter: we have 6mm, 8mm, 10mm, 15mm and 20 mm diameter motor
Coil resistance/ rated voltage: coil resistance is adjustable, and with higher resistance, motor's rated voltage is higher.
Bracket design/ lead screw length: if customer want the bracket to be longer/short, with special design such as mounting holes, it's adjustable.
PCB + cables + connector: PCB's design, cable length and connector pitch are all adjustable, they can be replaced into FPC if customers require.

If we have samples in stock, we can ship out samples in 3 days.
If we do not have samples in stock, we need to produce them, production time is about 20 calendar days.
For mass production, lead time depends on order quantity.
Payment method and payment terms
For samples, in general we accept Paypal or alibaba.
For mass production, we accept T/T payment.
For samples, we collect full payment before production.
For mass production, we can accept 50% pre-payment before production, and collect the rest 50% payment before shipment.
After we cooperate order more than 6 times, we could negotiate other payment terms such as A/S (after sight)
1.How long is the general delivery time for samples? How long is the delivery time for back-end large orders?
Sample order lead-time is about 15 days,mass quantity order lead -time is 25-30 days.
2. Do you accept custom services?
We accept products customize.including the motor parameter,lead wire type,out shaft etc.
3. Is it possible to add an encoder to this motor?
For this type motor, we can adding encoder on the motor wear cap.
---
---