NEMA34 86mm linear hybrid stepper motor external drive high thrust
Product Detail
Product Tags
NEMA 34 hybrid stepper motor has 86mm size.
It's also external drive linear stepper motor with 135mm length lead screw shaft on top, also with a plastic nut/slide fits it.
The lead screw Model No. is: Tr15.875*P3.175*4N
The pitch of lead screw is 3.17mm, and it has 4 starts, so lead = start number*lead screw pitch=4 * 3.175mm=12.7mm
So the step length of the motor is: 12.7mm/200steps=0.0635mm/step
We also have other lead screw type for options, it depends on customer's requirement on motor's thrust and linear speed.

Model No.

SM86C0905

Motor diameter

86mm (NEMA34)

Drive voltage

5

V DC

Coil resistance

1.6

Ω±10%/phase

Number of phase

2 phases 

(bipolar)

Step angle

1

.

8°

/step

Rate current

3.12A/phase

Minimum thrust (300PPS)

50KG

Step length

0.0635mm/step
| | |
| --- | --- |
| Lead screw type | Trapezoidal screw |
| Lead screw Model No. | Tr15.875*P3.175*4N |
| Outer diameter | 15..875 mm |
| Lead | 12.7mm |
| Starts | 4 |
| Pitch | 3.175mm |
| Step length | 0.0635mm/step |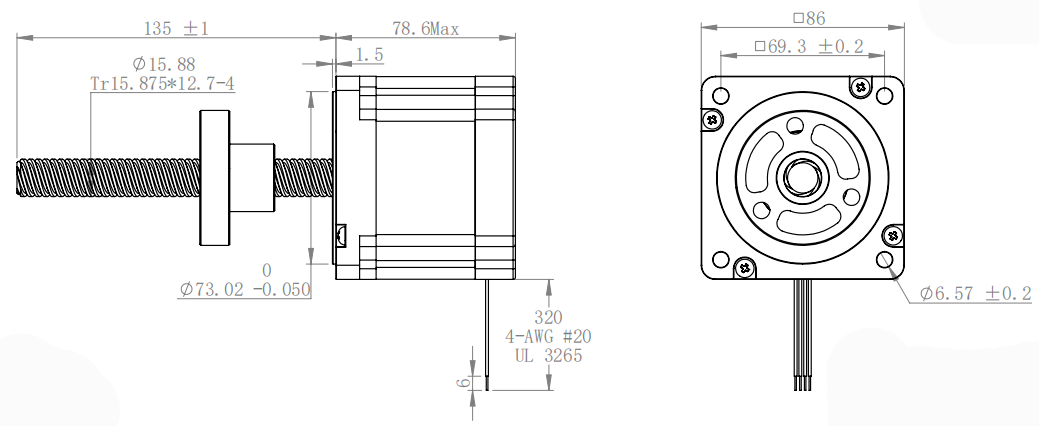 The lead screw used on linear hybrid stepper motor is in general trapezoidal lead screw.
For example for Tr3.5*P0.3*1N lead screw.
Tr means trapezoidal lead screw type
P0.3 means lead screw's pitch is 0.3mm
1N means it's single start lead screw.
Lead screw lead=start number*pitch
So for this specific lead screw, it's 0.3mm lead.
Motor's stepper angle of hybrid stepper motor is 1.8 degrees/step, which takes 200 steps to rotate one turn.
Step length is linear movement the motor makes, when it takes one single step.
For a 0.3mm lead screw, step length is 0.3mm/200 step=0.0015mm/step
Basic structure of NEMA stepper motors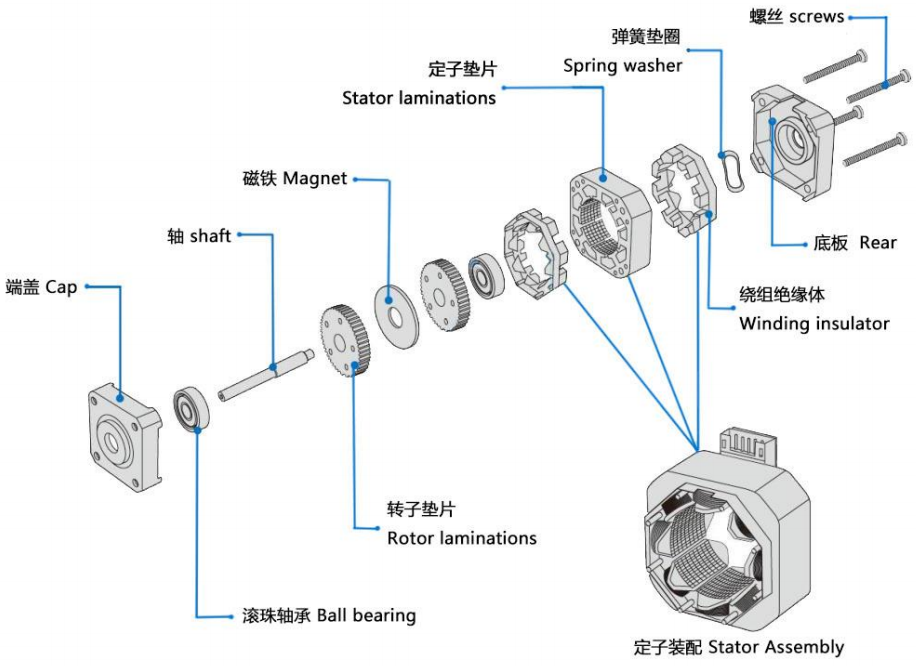 Application of Hybrid stepper motor
Due to high resolution of hybrid stepper motor's (200 or 400 steps per revolution), they are widely used for applications requiring high precision, such as:
3D printing
Industrial control(CNC, automatic milling machine, textile machinery)
Computer peripherals
Packing machine
And other automatic systems requiring high precision control.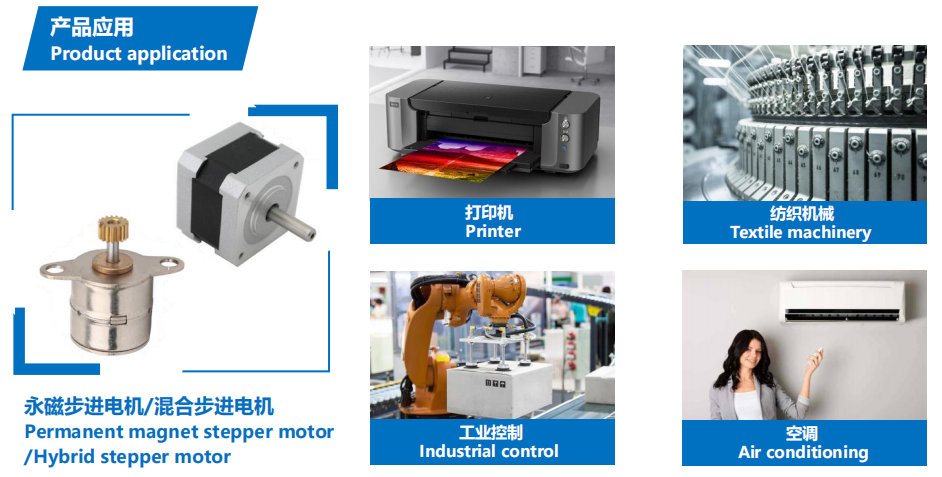 Customers should follow the principle of "selecting stepper motors first, then select driver based on existing stepper motor"
It is best not to use the full-step driving mode to drive a hybrid stepping motor, and the vibration is bigger under full-step driving.
Hybrid stepper motor is more suitable for low-speed occasions. We suggest the speed does not exceed 1000 rpm (6666PPS at 0.9 degrees), preferably between 1000-3000PPS (0.9 degrees), and it can be attached with a gearbox to lower it's speed. The motor has high working efficiency and low noise at suitable frequency.
Due to historical reasons, only the motor with a nominal 12V voltage uses 12V. Other rated voltage on design drawing is not exactly the most suitable driving voltage for the motor. Customers should choose suitable driving voltage and suitable driver based on own requirement.
When the motor is used with high speed or large load, it generally does not start at the working speed directly. We suggest to gradually increases the frequency and speed. For two reasons: First, the motor does not lose steps, and second, it can reduce noise and improve the positioning accuracy.
The motor should not work in the vibration area(below 600 PPS ). If it must be used at slow speed, vibration problem could be reduced by changing the voltage, current or adding some damping.
When the motor works below 600PPS (0.9 degrees), it should be driven by small current, large inductance and low voltage.
For loads with a large moment of inertia, a large size motor should be selected.
When higher precision is required, it could be solved by adding gearbox, increasing the motor speed, or using subdivision driving. Also a 5-phase motor(unipolar motor) could be used, but the price of the entire system is relatively expensive, so it's rarely used.
Stepper motor size:
We currently have 20mm(NEMA8), 28mm(NEMA11), 35mm(NEMA14), 42mm(NEMA17), 57mm(NEMA23), 86mm(NEMA34) hybrid stepper motors. We suggest to determine motor size first, then confirm other parameter, when you select a hybrid stepper motor.
Motor's design can be adjusted based on customer's requirement including:
Motor's diameter: we have 6mm, 8mm, 10mm, 15mm and 20 mm diameter motor
Coil resistance/ rated voltage: coil resistance is adjustable, and with higher resistance, motor's rated voltage is higher.
Bracket design/ lead screw length: if customer want the bracket to be longer/short, with special design such as mounting holes, it's adjustable.
PCB + cables + connector: PCB's design, cable length and connector pitch are all adjustable, they can be replaced into FPC if customers require.
If we have samples in stock, we can ship out samples in 3 days.
If we do not have samples in stock, we need to produce them, production time is about 20 calendar days.
For mass production, lead time depends on order quantity.
Payment method and payment terms
For samples, in general we accept Paypal or alibaba.
For mass production, we accept T/T payment.
For samples, we collect full payment before production.
For mass production, we can accept 50% pre-payment before production, and collect the rest 50% payment before shipment.
After we cooperate order more than 6 times, we could negotiate other payment terms such as A/S (after sight)
1.How long is the general delivery time for samples? How long is the delivery time for back-end large orders?
Sample order lead-time is about 15 days,mass quantity order lead -time is 25-30 days.
2. Do you accept custom services?
We accept products customize.including the motor parameter,lead wire type,out shaft etc.
3. Is it possible to add an encoder to this motor?
For this type motor, we can adding encoder on the motor wear cap.
Frequently Asked Question
1.What is the difference between bipolar and unipolar wiring of stepper motors?
Stepper motors with bipolar connections use a drive method in which current flows in both directions in one winding (bipolar drive).
A stepper motor with a single-pole connection has a central tap and uses a drive method in which current always flows in a fixed direction in one winding (single-pole drive).
2.Stepper motor in the start-stop operation mode can not start the reasons and processing methods
a.load is too large: motor selection error, choose a larger size of the motor.
b.frequency is too high: reduce the frequency
c.If the motor oscillates back and forth, or the torque is very small, indicating that there is a phase damage, or broken circuit: replace or repair the motor
d.Phase current is not enough:Increase the phase current, at least for the first few steps of starting
3.Causes and solutions for stepper motors that complete acceleration but stop rotating when they reach a stable speed.
Cause: The stepper motor is running at its capacity limit and stops due to excessive acceleration. The rotor vibrates and runs unstably.
Solution.
①Reduce acceleration, i.e. choose a lower acceleration or use two different acceleration levels, higher at the beginning and lower near the maximum speed.
②Increase the torque
③Add a mechanical damper to the rear shaft, but this increases the rotor inertia
④Take a subdivision drive
---
---