28mm permanent magnet gearbox stepper motor cover can be customized
Product Detail
Product Tags
This is a pm reduction stepper motor with a diameter of 28mm,Out put gear with friction clutch
The gear ratio of this motor is 16:1, 25:1, 32:1, 48.8:1, 64:1, 85:1.
The motor has a step angle of 5.625°/64 and is driven by 1-2 phase excitation or 2-2 phase excitation.
Rated voltage: 5VDC; 12VDC; 24VDC
motor connection wire and connector wire specifications UL1061 26AWG or UL2464 26AWG, the
The motor is mainly used in sanitary ware, thermostatic valve, hot water faucet, intelligent toilet, air conditioner, automatic adjustment of water temperature and flow, door lock, water purifier and a series of household appliances.
Also, other fields that require precise control can be realized. Due to the realization of open-loop control, low-cost position control is realized.
The price of this product can be lower than other products due to the high production volume.
In addition it has a gear on the face, the general gear material is POM (plastic), we can also replace it with a metal gear, but this will increase the cost.
If you are interested in our products, you can contact me at any time.

Voltage (V)

Resistance

(Ω)

Pull-in torque 100PPS(mN*m)

Detent torque(mN*m)

Unload pull-in Frequency(PPS)

5

18

≥98

≥29.4

≥500

12

60

≥117

≥29.4

≥500

12

70

≥68.7

≥29.4

≥500

24

200

≥68.7

≥29.4

≥500

24

300

≥58.8

≥29.4

≥500
Design drawing: Output shaft customizable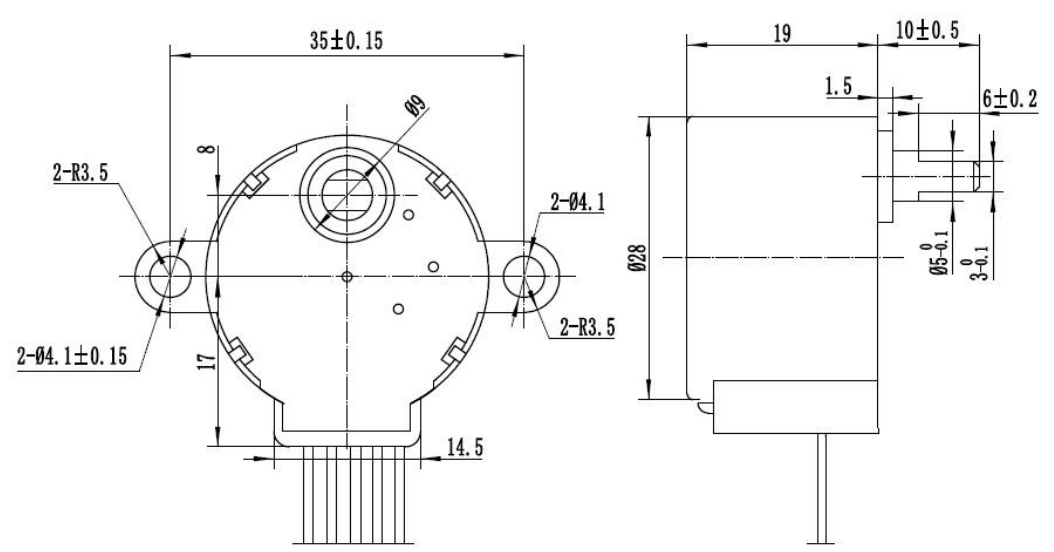 Gear ratio,
Voltage:5-24V,
Gear material,
Output shaft,
Motor's cap design customizable
About the basic structure of PM stepper motor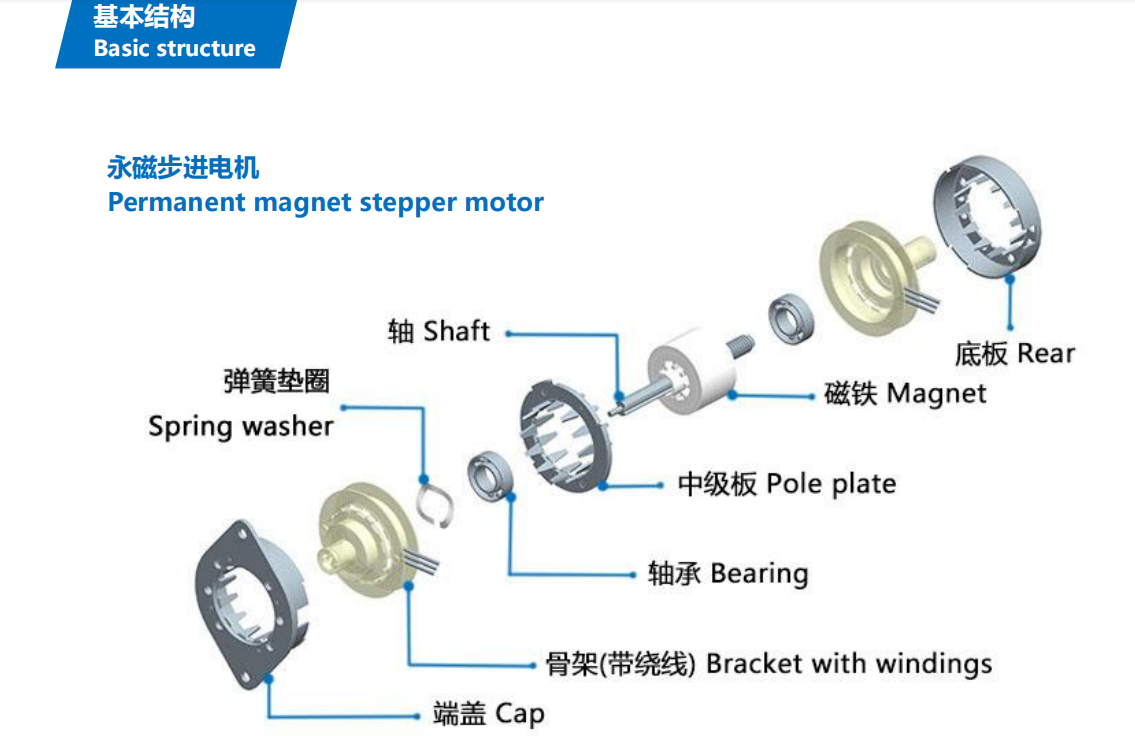 1. High precision positioning
Since steppers move in precise repeatable steps, they excel in applications requiring precise
positioning, by the number of steps the motor moves
2. High Precision speed control
Precise increments of movement also allow for excellent control of rotational speed for process
automation and robotics. The rotational speed is determined by the frequency of the pulses.
3. Pause and holding function
With control of the drive, the motor has lock function (there is current through motor windings, but
the motor does not rotate), and there is still a holding torque output.
4. Long life & low electromagnetic interference
The stepper motor has no brushes, and does not need to be commutated by brushes like a brushed
DC motor. There is no friction of the brushes, which increases the service life, has no electric sparks, and reduces electromagnetic interference.
Application of PM stepper motor
Printer,
Textile machinery,
Industrial control,
sanitary ware,
thermostatic valve,
hot water faucets,
Automatic adjustment of water temperature
Door locks
Air conditioning
Water purifier valve, etc.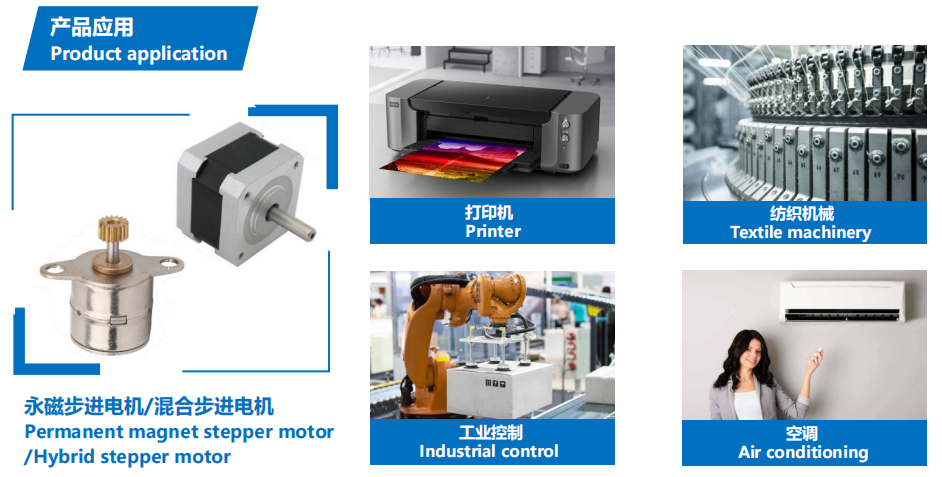 Working principle of stepper motor
The drive of the stepper motor is controlled by software. When the motor needs to rotate, drive will
apply the stepper motor pulses. These pulses energize stepper motor's in a specified order, thereby
causing the motor's rotor to rotate in a specified direction (clockwise or counter clockwise). So as to
realize proper rotation of the motor. Each time the motor receives a pulse from the driver, it will rotate by a step angle (with full-step drive), and the rotation angle of the motor is determined by the number of driven pulses and step angle.
If we have samples in stock, we can ship out samples in 3 days.
If we do not have samples in stock, we need to produce them, production time is about 20 calendar days.
For mass production, lead time depends on order quantity.
Samples are packed in foam sponge with a paper box, shipped by express
Mass production, motors are packed in corrugated cartons with transparent film outside. (shipping by air)
If shipped by sea, product will be packed on pallets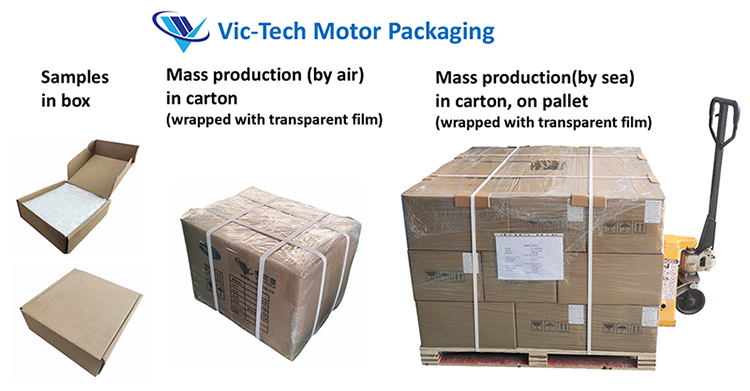 Payment method and payment terms
For samples, in general we accept Paypal or alibaba.
For mass production, we accept T/T payment.
For samples, we collect full payment before production.
For mass production, we can accept 50% pre-payment before production, and collect the rest 50% payment before shipment.
After we cooperate order more than 6 times, we could negotiate other payment terms such as A/S (after sight)
Payment method and payment terms
1.Reasons for stepper motors with gearboxes:
Stepper motor switch the frequency of the stator phase current, such as changing the input pulse of the stepper motor drive circuit, so that it becomes a low-speed movement. Low-speed stepper motor in waiting for the stepping command, the rotor is in the stop state, in the low-speed stepping, speed fluctuations will be very large, at this time, such as changing to high-speed operation, it can solve the problem of speed fluctuations, but the torque will be insufficient. That is, the low speed will torque fluctuations, and the high speed will be insufficient torque, the need to use reducers.
---
Previous:
10-817G 10mm stepper motor with 1024GB horizontal gearbox shaft type gear ratio adjustable
---