Customizable 30mm permanent magnet gearbox stepper motor
Product Detail
Product Tags
The 30BYJ46 is a 30 mm permanent magnet geared stepper motor.
The gear ratio of the gear box is 85:1
Stepping angle: 7.5° / 85.25
Rated voltage: 5VDC; 12VDC; 24VDC
Drive mode. 1-2 phase excitation or 2-2 phase excitation can be 1-2 phase or 2-2 phase excitation according to your needs.
Lead wire sizes are UL1061 26AWG or UL2464 26AWG for your choice.
This motor is common in all application industries because of its cheap price, especially in the household appliances industry.
In addition, other areas where precise control is required can also be realized. Open loop control with low cost position control is achieved.
Also the hole distance of the cover plate (mm): can be customized
The external wiring part can be connected with various types and lengths of connecting wires, or FPC according to customer requirements .

| | | | | |
| --- | --- | --- | --- | --- |
| Voltage (V) | Resistance(Ω) | Pull-in torque 100PPS(mN*m) | Detent torque(mN*m) | Unload pull-in Frequency(PPS) |
| 12 | 110 | ≥98 | ≥39.2 | ≥350 |
| 12 | 130 | ≥78.4 | ≥39.2 | ≥350 |
| 12 | 200 | ≥58.8 | ≥39.2 | ≥350 |
Design drawing: Output shaft customizable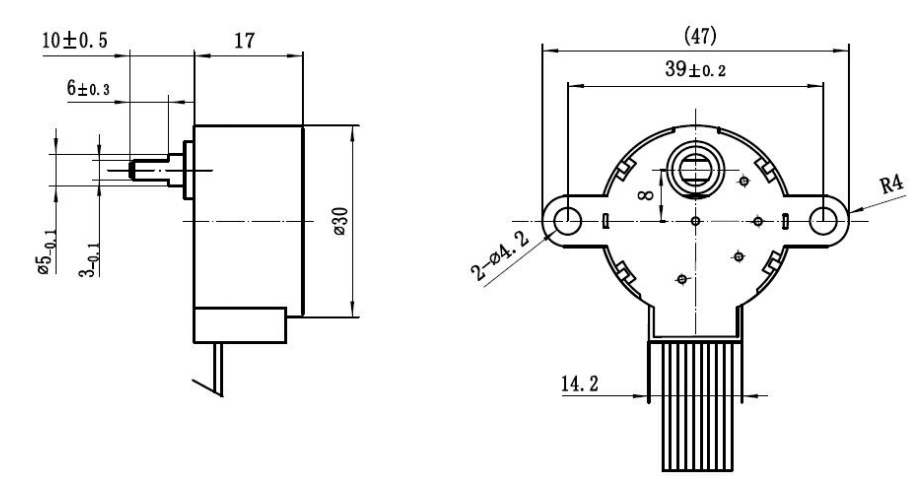 Voltage:5-24V
Gear material,
Output shaft,
Motor's cap design customizable
About the basic structure of PM stepper motor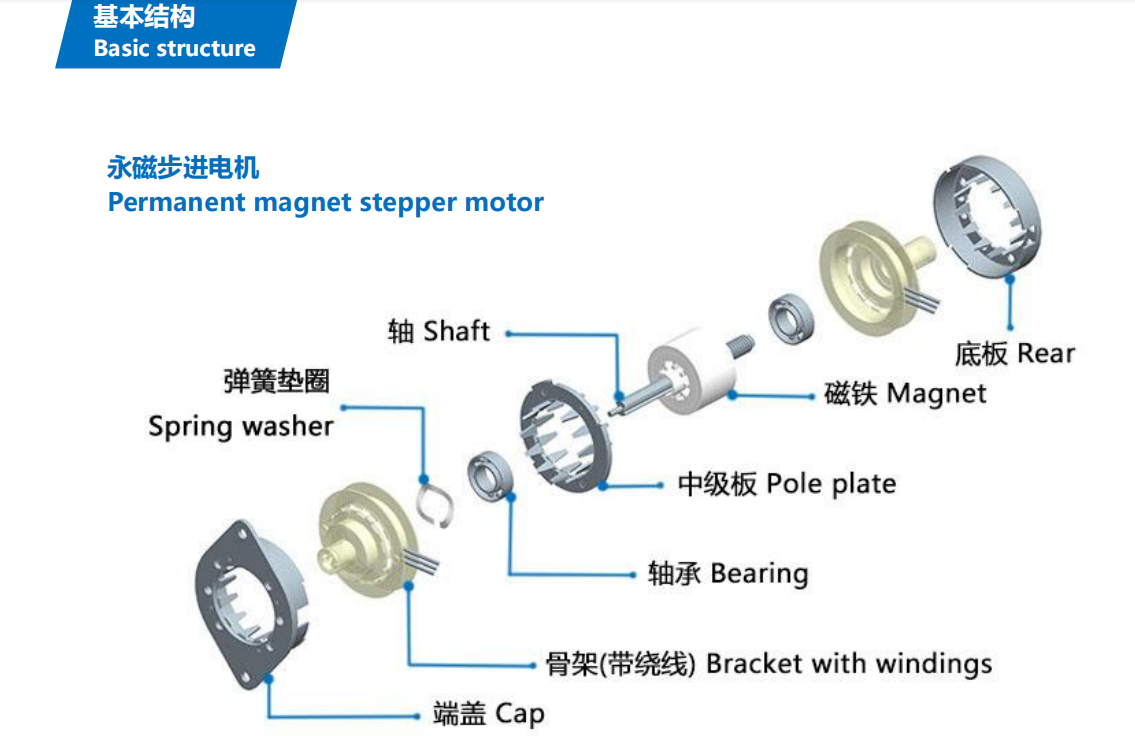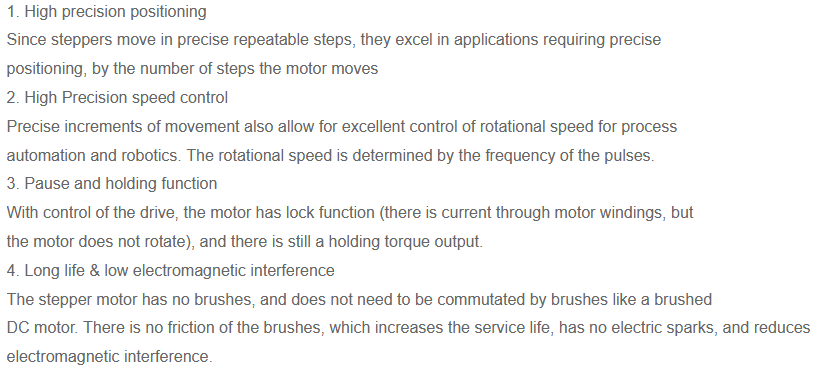 Application of PM stepper motor
Printer,
Textile machinery,
Industrial control,
sanitary ware,
thermostatic valve,
hot water faucets,
Automatic adjustment of water temperature
Door locks
Air conditioning
Water purifier valve, etc.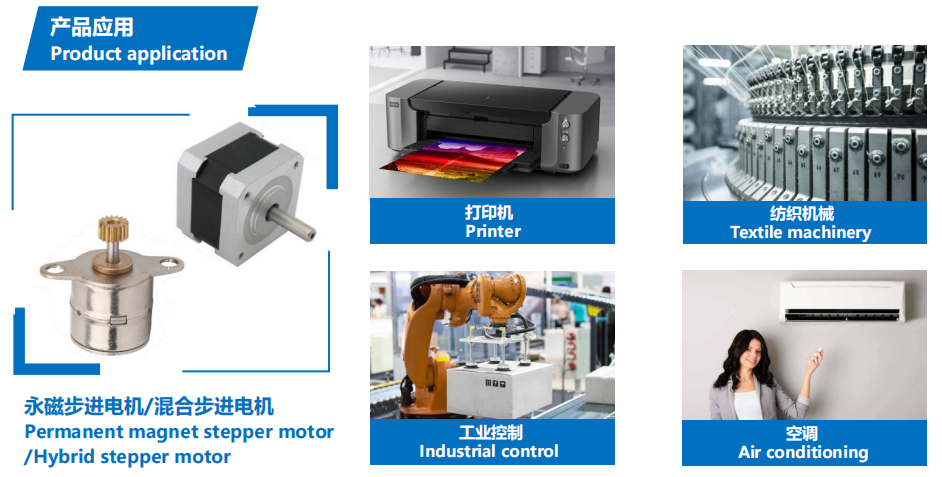 Working principle of stepper motor
The drive of the stepper motor is controlled by software. When the motor needs to rotate, drive will
apply the stepper motor pulses. These pulses energize stepper motor's in a specified order, thereby
causing the motor's rotor to rotate in a specified direction (clockwise or counter clockwise). So as to
realize proper rotation of the motor. Each time the motor receives a pulse from the driver, it will rotate by a step angle (with full-step drive), and the rotation angle of the motor is determined by the number of driven pulses and step angle.
If we have samples in stock, we can ship out samples in 3 days.
If we do not have samples in stock, we need to produce them, production time is about 20 calendar days.
For mass production, lead time depends on order quantity.
Samples are packed in foam sponge with a paper box, shipped by express
Mass production, motors are packed in corrugated cartons with transparent film outside. (shipping by air)
If shipped by sea, product will be packed on pallets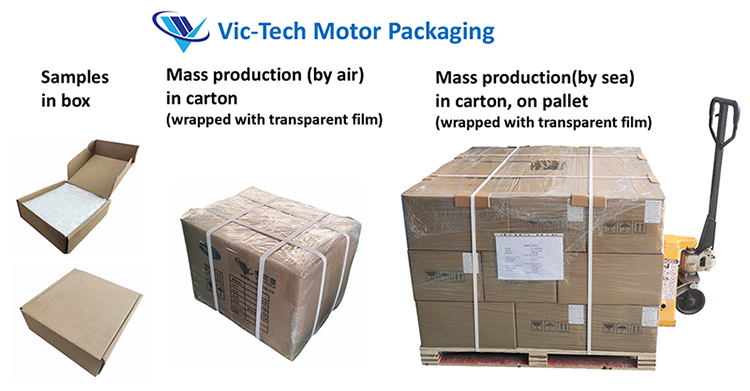 Payment method and payment terms
For samples, in general we accept Paypal or alibaba.
For mass production, we accept T/T payment.
For samples, we collect full payment before production.
For mass production, we can accept 50% pre-payment before production, and collect the rest 50% payment before shipment.
After we cooperate order more than 6 times, we could negotiate other payment terms such as A/S (after sight)
1.Reasons for stepper motors with gearboxes:
Stepper motor switch the frequency of the stator phase current, such as changing the input pulse of the stepper motor drive circuit, so that it becomes a low-speed movement. Low-speed stepper motor in waiting for the stepping command, the rotor is in the stop state, in the low-speed stepping, speed fluctuations will be very large, at this time, such as changing to high-speed operation, it can solve the problem of speed fluctuations, but the torque will be insufficient. That is, the low speed will torque fluctuations, and the high speed will be insufficient torque, the need to use reducers.
2.What are the commonly fitted gearboxes for stepper motors?
Stepper motors are assembled with reducers such as planetary reducers, worm gear reducers, parallel gear reducers, and filament gear reducers.
---
---