DC motor with worm gear box for robots and toys
Product Detail
Product Tags
This is a JSX5300 series gearbox motor, which is a DC brushed motor with a worm gear.
Its output shaft is a 10 mm diameter D-shaft and the shaft length can be customized.
It also has a gearbox that can be converted to a dual-shaft design.
The worm gearbox can also be paired with a stepper motor, so customers can choose according to their needs.
For continuous working Never give a load more than 25kg.cm
For Motor starting or stall,never give a torque more than 30kg.cm
out shaft can be customized,only need a little long time.
In addition, we have various gear ratios for you to choose from. Gear ratios. 49:1,74:1,101:1218:1,505:1,634:1

| | |
| --- | --- |
| Model No. | JSX5300-385 |
| Reduction ratio | 1:5300 |
| Rated torque | 25kg-cm |
| Stall torque | 30kg.cm |
| No-load seed | 1.6rpm |
| Rated speed | 1.3rpm |
| No-load current | 400mA |
| Rated current | 750mA |
| Stall current | 4000mA |
| Rated volt | 6V |
| Rated torque | 40g.cm |
| No-load seed(single motor) | 8000rpm |

About JSX5300-385 worm gearbox DC motor
The gearbox can increase the torque of the motor or decrease the speed of the motor.
We have different gear ratios for you to choose from, and the efficiency of the gearbox is also related to the gearbox gear ratio.
Output Torque = Original Torque * Gear Ratio * Gearbox Efficiency
Output speed = Original speed / Gear ratio
This brushed DC motor is the most commonly used motor in the market.
It has brushes inside and has positive and negative pins (+ and -).
The speed of the DC motor can be controlled by different gear ratios or by PWM control. (Pulse Width Modulation)
It boosts the torque through the gearbox and the DC motor can reach higher torque compared to the original torque of the motor.
Advantages of DC brushed motor
1. Fast speed
2. small size
3. High efficiency (compared with stepper motor)
4. Universal use
5. Easy to connect and easy to use
6. Inexpensive
Electric DC worm gear motors are mainly used in various applications such as windows, household appliances, model cars, model robots, model ships, industrial applications, DIY engines, miniature winches, remote control curtains, miniature door openers, barbecue grills, ovens, garbage disposals, coffee machines, printing presses, etc.
Lead Time and Packaging Information
Lead time for samples:
Standard motors in stock: within 3 days
Standard motors not in stock: within 15 days
Customized products: About 25~30 days (based on complexity of customization)
Lead time for building a new mold: generally about 45 days
Lead time for mass production: based on order quantity
Packaging:
Samples are packed in foam sponge with a paper box, shipped by express
Mass production, motors are packed in corrugated cartons with transparent film outside. (shipping by air)
If shipped by sea, product will be packed on pallets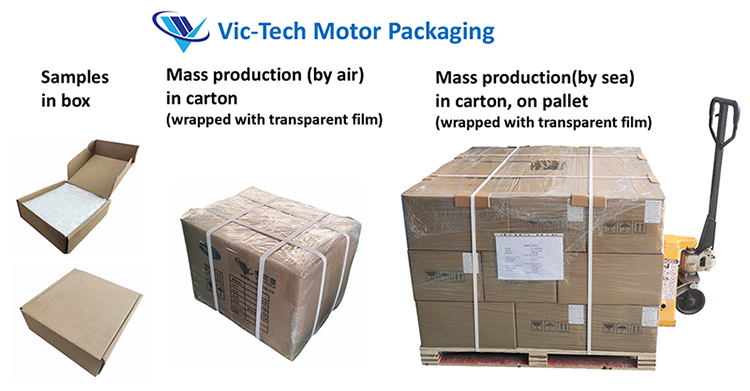 On samples and air shipping, we use Fedex/TNT/UPS/DHL. (5~12 days for express service)
For sea shipping, we use our shipping agent, and ship from Shanghai port. (45~70 days for sea shipping)
1.Are you a manufacturer?
Yes, we are a manufacture, and we produces mainly stepper motors.
2.Where is your factory location? Can we visit your factory?
Our factory is located in Changzhou, Jiangsu. Yes, you are very welcome to visit us.
3.Can you provide free samples?
No, we don't provide free samples. Customers won't treat free samples fairly.
4.Who pays for shipping cost? Can I use my shipping account?
Customers pay for shipping cost. We will quote you shipping cost.
If you think you have cheaper/more convenient shipping method, we can use you shipping account.
5.What's you MOQ? Can I order one motor?
We don't have MOQ, and you can order only one piece sample.
But we recommend you to order a little bit more, just in case the motor is damaged during your testing, and you can have a back-up.
6.We are developing a new project, do you provide customization service? Can we sign a NDA contract?
We have over 20 years of experience in stepper motor industry.
We have developed many projects,  we can provide full set customization from design drawing to production.
We are confident we can give you few advice/suggestions for your stepper motor project.
If you are worrying about confidential issues, yes, we can sign a NDA contract.
7.Do you sell drivers? Do you produce them?
Yes, we do sell drivers. They are only suitable for temporary sample test, not suitable for mass production.
We do not produce drivers, we only produce stepper motors
---
---