Underwater motor waterproof motor thrust 1KG
Product Detail
Product Tags
The 2210A underwater motor adopts electronic switching device to replace the traditional contact commutator and brushes for electronic commutation. Therefore, it has the advantages of high efficiency, high reliability, no commutation sparks and no interference, low mechanical noise and high lifetime.
The motor has a maximum thrust of 1 kg and can handle seawater up to 100 meters deep.
It has a propeller, three wires and a base. On the base, it has holes for mounting screws. Main application underwater ROV robot/UAV as propeller.
| | |
| --- | --- |
| Model No. | 2210A |
| Motor type | Brushless underwater motor(long shaft) |
| Rated voltage | 11.1V(3s) |
| Weight | 78g |
| Rate Power | 100W |
| resistance | 0.55Ω±5% |
| Motor inductance | 60.5μH |
| Nominal torque | 0.25N*m |
| Dielectric strength | AC 300V/60S |
| Underwater thrust | 1kg(1N) |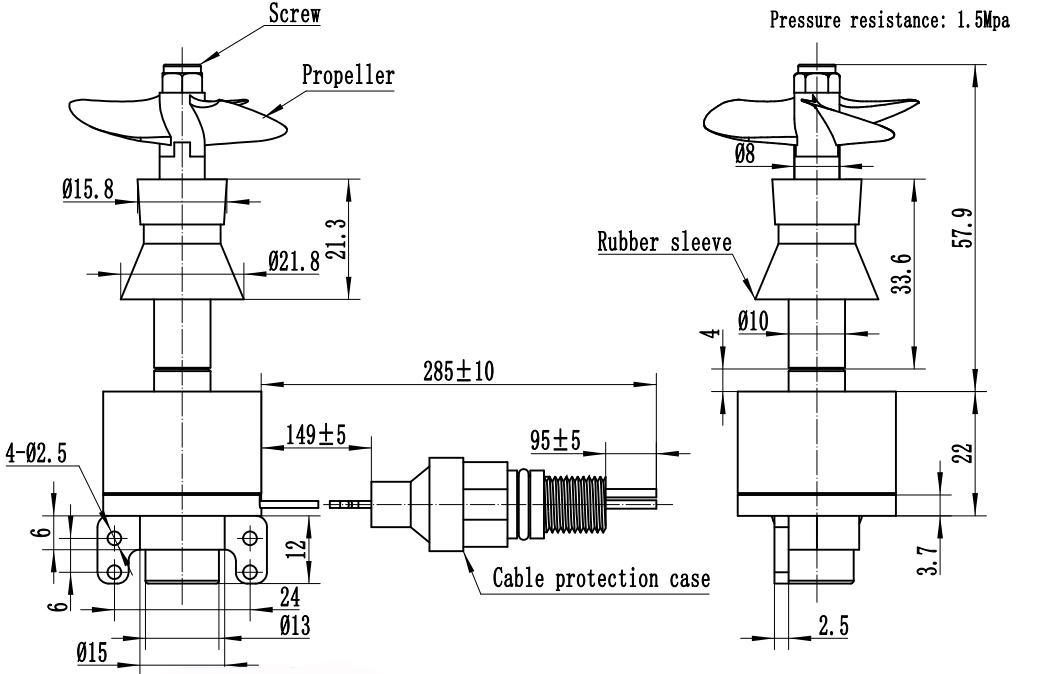 Because brushless motor uses electronic commutation, so let brushless motor operation need to adapt to the motor voltage DC power supply, driver (ESC) and speed control signal.
Take a common model ESC as an example, first disconnect the power supply, connect the motor leads and speed signal line, the throttle travel to the highest (full duty cycle), connected to the power supply, you will hear the "drop" two sounds, the throttle travel quickly to the lowest position, and then you can hear the normal start of the motor "drop ---- drop" sound, the throttle travel calibration is complete, you can start the motor normally. (The operation mode of ESC may be different for different manufacturers, please refer to the manual of the corresponding ESC model or consult the ESC manufacturer for details)
Customers can use regular drone ESC (Electrical speed control) to drive this motor.
We only produce motors, and we do not provide ESC.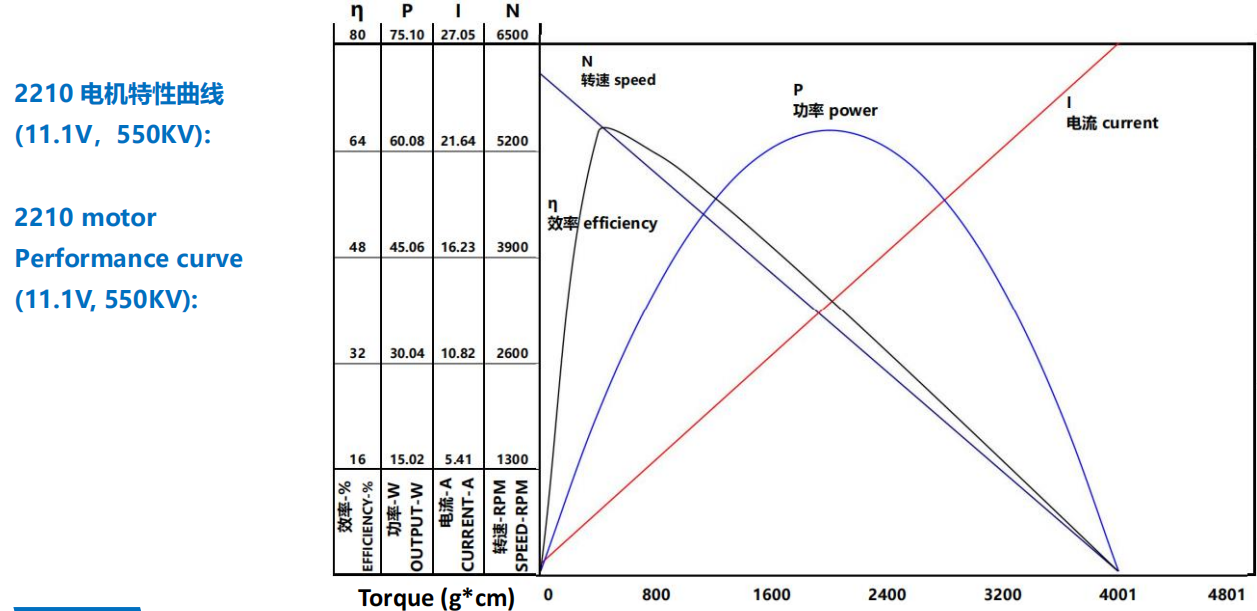 Underwater motor advantages
1. Waterproof and moisture-proof to avoid short circuit of electrical components inside the chamber.
2. Effective blocking of dust and particles to avoid bearing wear.
3. Keep the cavity dry to avoid the motor and motor being corroded and oxidized, resulting in poor contact or leakage.
Widely used in precision electronic instruments, automation equipment, ROV Robots Drones, model drones and intelligent robots and other fields.
1.Wiring method
First of all, the motor, power supply and ESC should be selected accurately according to the load and use conditions, the power supply voltage is too high is likely to cause damage to the motor and ESC, the power supply discharge power is insufficient to allow the motor to reach the rated power and affect the use of the effect. ESC selection should also be matched with the rated voltage of the motor. Motor installation screws should not be too long, so as not to damage the motor coil. Before wiring, for safety, please remove the motor load, first connect the ESC and motor three leads (three leads can be switched two to change the direction of the motor), and then connect the ESC signal line, pay attention to the signal line wiring order, do not connect the reverse. Finally connect the DC power supply, positive and negative polarity can not be reversed, most of the market ESCs have reverse protection, no reverse protection ESCs in the power supply positive and negative polarity will have the risk of burning.
2.Throttle travel calibration.
When using ESC for the first time, or change the PWM signal source, or use the throttle signal out of calibration for a long time, you need to calibrate the throttle travel.

Lead time and packaging information
Lead time for samples:
Standard motors in stock: within 3 days
Standard motors not in stock: within 15 days
Customized products: About 25~30 days (based on complexity of customization)
Lead time for building a new mold: generally about 45 days
Lead time for mass production: based on order quantity
Packaging:
Samples are packed in foam sponge with a paper box, shipped by express
Mass production, motors are packed in corrugated cartons with transparent film outside. (shipping by air)
If shipped by sea, product will be packed on pallets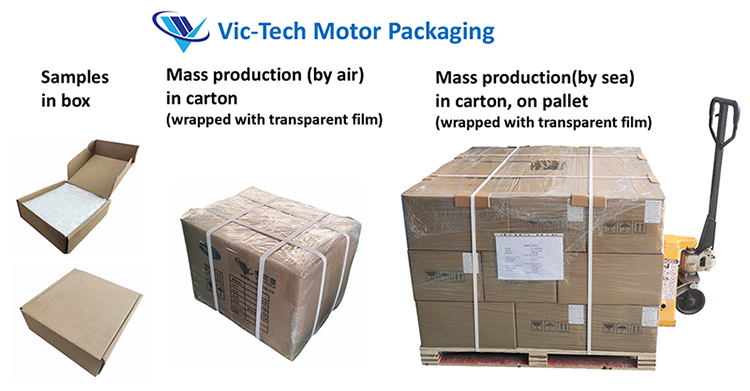 On samples and air shipping , we use Fedex/TNT/UPS/DHL. (5~12 days for express service)
For sea shipping, we use our shipping agent, and ship from Shanghai port. (45~70 days for sea shipping)
1.Are you a manufacturer?
Yes, we are a manufacture, and we produces mainly stepper motors.
2.Where is your factory location? Can we visit your factory?
Our factory is located in Changzhou, Jiangsu. Yes, you are very welcome to visit us.
3.Can you provide free samples?
No, we don't provide free samples. Customers won't treat free samples fairly.
4.Who pays for shipping cost? Can I use my shipping account?
Customers pay for shipping cost. We will quote you shipping cost.
If you think you have cheaper/more convenient shipping method, we can use you shipping account.
5.What's you MOQ? Can I order one motor?
We don't have MOQ, and you can order only one piece sample.
But we recommend you to order a little bit more, just in case the motor is damaged during your testing, and you can have a back-up.
6.We are developing a new project, do you provide customization service? Can we sign a NDA contract?
We have over 20 years of experience in stepper motor industry.
We have developed many projects,  we can provide full set customization from design drawing to production.
We are confident we can give you few advice/suggestions for your stepper motor project.
If you are worrying about confidential issues, yes, we can sign a NDA contract.
7.Do you sell drivers? Do you produce them?
Yes, we do sell drivers. They are only suitable for temporary sample test, not suitable for mass production.
We do not produce drivers, we only produce stepper motors
---
---