SW2820 ROV thruster 24V-36V brushless DC motor for underwater equipment
Product Detail
Product Tags
SW2820 underwater brushless motor voltage is 24V-36V, also model submarine underwater motor, motor diameter is 35.5mm, small volume, beautiful appearance, long life, low noise technology, high energy saving rate, high torque, high precision.
It has 200~300KV value, and the KV value is related to the coil winding parameters.
The thrust force is about 3kg and the control speed is 7200RPM.
It has a wide range of applications in precision electronic equipment, automation equipment, water and underwater equipment, aerial model drones and intelligent robots.
This motor has no propeller
Customers need to design their own propeller motor to match this motor.
If you have any questions about this motor, please feel free to contact me.
| | |
| --- | --- |
| Motor type: | Underwater brushless motor |
| Weight: | 350g |
| Underwater thrust | About 3KG |
| Rated voltage | 24~36V |
| KV value | 200~300KV |
| Unload speed | 7200 RPM |
| Rated power | 350~400W |
| Loaded current | 13~16A |
| Rated torque | 0.35N*m |
Design drawing:Screw holes on top used to fix propeller

Because brushless motor uses electronic commutation, so let brushless motor operation need to adapt to the motor voltage DC power supply, driver (ESC) and speed control signal.
Take a common model ESC as an example, first disconnect the power supply, connect the motor leads and speed signal line, the throttle travel to the highest (full duty cycle), connected to the power supply, you will hear the "drop" two sounds, the throttle travel quickly to the lowest position, and then you can hear the normal start of the motor "drop ---- drop" sound, the throttle travel calibration is complete, you can start the motor normally. (The operation mode of ESC may be different for different manufacturers, please refer to the manual of the corresponding ESC model or consult the ESC manufacturer for details)
Customers can use regular drone ESC (Electrical speed control) to drive this motor.
We only produce motors, and we do not provide ESC.
SW2216 motor Performance curve (16V, 550KV)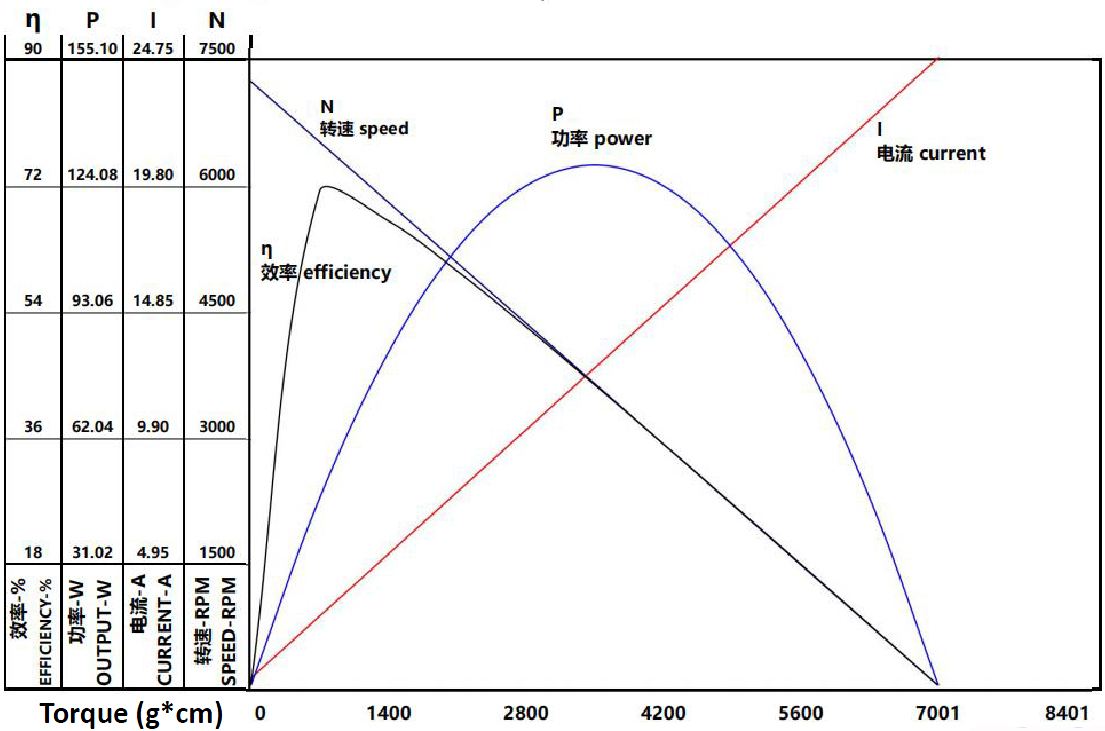 Underwater motor advantages
1.Waterproof and moisture-proof to avoid short circuit of electrical components inside the chamber.
2.Effective blocking of dust and particles to avoid bearing wear.
3.Keep the cavity dry to avoid the motor and motor being corroded and oxidized, resulting in poor contact or leakage.
●Precision Electronic Instrument
●Automation Equipment
●Underwater Equipment
●Aircraft Model Drone
●Smart Robot
1.Wiring method
First of all, the motor, power supply and ESC should be selected accurately according to the load and use conditions, the power supply voltage is too high is likely to cause damage to the motor and ESC, the power supply discharge power is insufficient to allow the motor to reach the rated power and affect the use of the effect. ESC selection should also be matched with the rated voltage of the motor. Motor installation screws should not be too long, so as not to damage the motor coil. Before wiring, for safety, please remove the motor load, first connect the ESC and motor three leads (three leads can be switched two to change the direction of the motor), and then connect the ESC signal line, pay attention to the signal line wiring order, do not connect the reverse. Finally connect the DC power supply, positive and negative polarity can not be reversed, most of the market ESCs have reverse protection, no reverse protection ESCs in the power supply positive and negative polarity will have the risk of burning.
2.Throttle travel calibration.
When using ESC for the first time, or change the PWM signal source, or use the throttle signal out of calibration for a long time, you need to calibrate the throttle travel.
Lead time and packaging information
Lead time for samples:
Standard motors in stock: within 3 days
Standard motors not in stock: within 15 days
Customized products: About 25~30 days (based on complexity of customization)
Lead time for building a new mold: generally about 45 days
Lead time for mass production: based on order quantity
Samples are packed in foam sponge with a paper box, shipped by express
Mass production, motors are packed in corrugated cartons with transparent film outside. (shipping by air)
If shipped by sea, product will be packed on pallets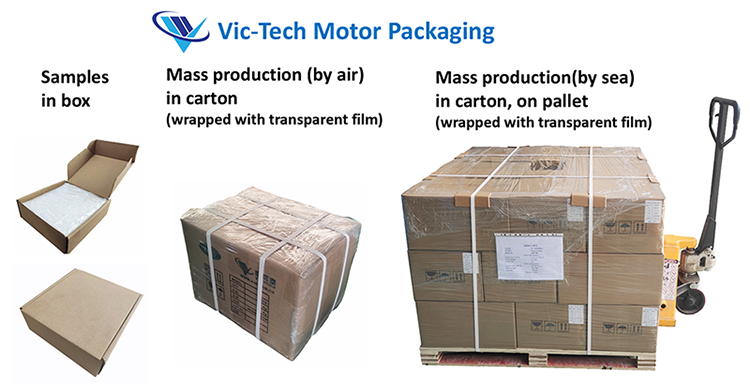 PackagingDelivery method and time
| | |
| --- | --- |
| DHL | 3-5 working days |
| UPS | 5-7 working days |
| TNT | 5-7 working days |
| FedEx | 7-9 working days |
| EMS | 12-15 working days |
| China Post | Depends on ship to which country |
| Sea | Depends on ship to which country |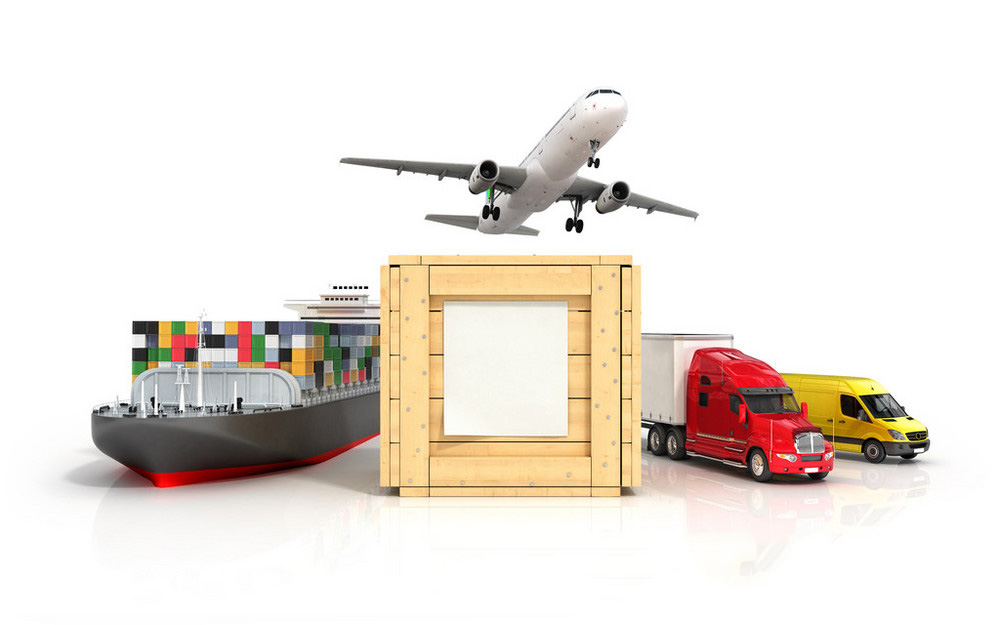 payment method

Master card

Visa

e-Checking

PAYLATER

T/T

Paypal

Sample order lead-time

about 15 days

Lead time for bulk orders

25-30 days

products quality guarantee

12 months

Packaging

single carton packing, 500 pieces per box.
PROFESSIONAL TECHNICAL SUPPORT
Company brings together a group of motor industry of enterprise management, quality management, production management and technical development person, with strong technical development capability and manufacturing capacity.
QUICK RESPONSE SUPPORT
Professional sales team, rich experience in sales. Can quickly respond to customer needs all kinds of motor.
STRICT QUALITY ASSURANCE
The company has passed ISO9001/2000 certification, strict test of each tool.Molded fine motor control product quality.
STRONG PRODUCTION STRENGTH
Sophisticated production equipment, professional research and development team, efficient production lines, experienced operations staff.
PROFESSIONAL CUSTOMIZED SERVICE
According to customers' special requirements, the products of all kinds of size requirements. Meet customers' diversified needs.
---
---